It was a surreal sight at the Wildlife Conservation Society's Safari! India Gala held at the Central Park Zoo on a magical summer evening—women gussied up in saris and extravagant jewels just a stone's throw from frolicking sea lions! Mix in soaring transparent dining tents filled with more than 600 prominent revelers, marveling at the halo of mist surrounding the trees above, and live music from Wynton Marsalis, and you have magic.

Amidst the silent auction and extravagant dinner, David T. Schiff was honored for his unwavering support for the WCS's work in India, spearheaded by tiger expert Dr. Ullas Karanth, winner of the 2007 J. Paul Getty Award for Conservative Leadership. Upon the arrival of the junior after-party guests, the dance floor kicked into the high energy stratosphere, as honorary chairs, former VP Al Gore and his wife Tipper, were spotted gyrating on the dance floor.

Other social notables tearing up the tile and celebrating the influence of India included WCS president Dr. Steve Sanderson, Lisa Schiff, Ann and Andrew Tisch, Allison and Leonard Stern, Katharina Otto-Bernstein and Nathan Bernstein, Muffie Potter and Dr. Sherrell Aston, Dayssi and Paul Kanavos, Marie Brenner and Ernie Pomeranz, Georgette Mosbacher, Carroll Petrie, Harrison Lefrak, and Karen and Richard Lefrak.

Proceeds went to the organization's educational program and the world's largest system of urban wildlife parks, which it operates. We certainly had fun all evening exploring our wild side!
| | |
| --- | --- |
| | |
| Bill Flaherty, Katherine Bryan | Tipper and Al Gore |
| | |
| | |
| Dayssi Olarte de Kanavos | Joan Jedell |
| | |
| | |
| Maria Rodriguez and Alan Atkinson | Ed and Shari Rollins |
| | |
| | |
| Hilary Geary and Wilbur Ross | Mark Locks, Nancy Corzine |
| | |
| | |
| Steppin' out | Gillian Miniter |
| | |
| | |
| Artist Gloria Kisch | Francesca Stanfilld Nye and Richard Nye |
| | |
| | |
| Tipper Gore boogies the night away | Hitting the dance floor |
| | |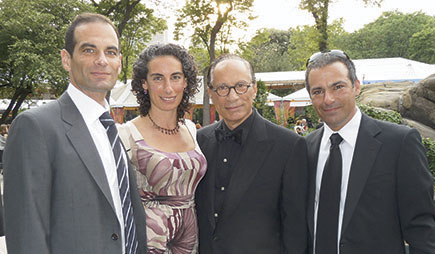 Eddie, Andrea, Leonard, and Emanuel Stern