She has all the prerequisites for success in New York—beautiful, brainy, well-educated, professional, philanthropic, and ambitious. Ladies on the Red Carpet, watch out—Diane Passage is in town, and she's making an indelible mark.

Like most young women lured to the Big Apple, Diane came with a suitcase filled with dreams. Through talent and hard work, she is already making those dreams come true, and none of them include turning into a vapid "socialite" wanna-be whose existence is defined by the latest loaner dress and paparazzi flashbulbs.

Diane came from small-town America, in the heart of the Midwest. There she learned that education and discipline open doors. In addition to academics, she showed a distinct interest in fashion. After graduating from the University of Michigan, she studied at F.I.T. where she honed her individual style and taste levels. And in addition to these qualities, she's a natural beauty with an athlete's toned, trim body, which she attributes to regular dance classes at Sheila Kelley's S-Factor studios in Chelsea.

This all proves what her business colleagues know: Diane is not a dilettante in any area of her life. When she wants something, she pursues it with steadfast determination. If she needs training, she gets it. If she needs mentoring, she seeks it out. If she can share wisdom, she will. She's a constant learner, who attacks life with a passion and inspires her peers to search for real meaning in their lives. For the past several years, she's been a key part of the committee working for the Gabrielle's Angel Foundation (formerly The G&P Foun­da­tion) and has enormous resources and outreach. "She gives generously of her time and good fortune to help others," Foundation creator Denise Rich said.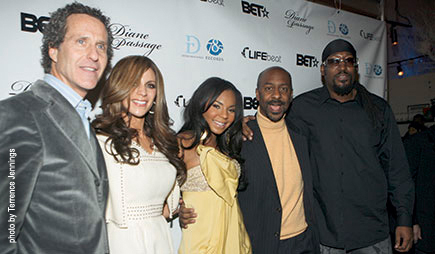 Daniel Glass, Diane Passage, Ashanti, Stephen Hill,
and Mark Batson at LIFEbeat presents Live Beats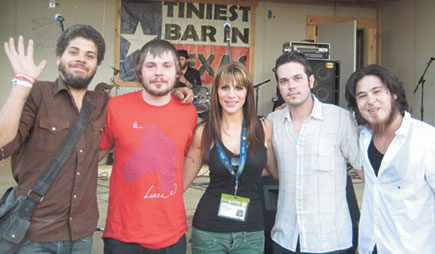 Diane running on the beach

Diane Passage with Tony Bennett at the 2008 Women of Achievement Gala

At the Bergh Ball,
Plaza Hotel
Diane has amassed a small army of admirers in just a few short years on the philanthropy landscape. Her ability to tap into a large pool of talent, plus corporate and social contacts, make her a dream committee member. So, choosing wisely, she generously gives her time and talent to several causes in addition to being one of Gabrielle's Angels. LIFEbeat, the music industry's major organization fighting AIDS, counts her as a generous donor and organizer. She was also a sponsor of the Detroit Music Awards and recently co-chaired the Women's Project, Women of Achievement Gala, that honored famed philanthropist Iris Cantor, actress and activist Kerry Washington, and corporate pioneer of women's causes, Laurie Tucker. Diane was also a co-chair of The Brooklyn Academy of Music Launch Gala for the month-long tribute to Paul Simon. She'll be co-chairing the Broadway Salutes—Arts Horizons and its 30th Anniversary Gala on Broadway in October. And as part of the planning team for a star-studded Broadway performers' show, Diane is raising money for children in public schools.

Arts Horizons and its commitment to public schools is a cause dear to Diane's heart, because her beloved son Jordan is just finishing his career at one of the Upper East Side's public schools before transferring to a private school. "Jordan's friends all go to the local school nearby, and we just didn't want to separate them before," she said. "But now he's growing to be independent, and a change of school and location is what he's really looking forward to. I know that Jordan had a great education, and I know that sometimes things were tough at the school, so helping raise money for arts programs in public schools helps fill a passion for me, and I know it's going to be a fabulous event."

As well as being a working executive, charitable chair, and world traveler, Diane is a fairly new bride, having just celebrated her first anniversary to financial whiz Ken Starr. She currently holds the title of Head of A&R at Glassnote Entertainment Group—an independent music company encompassing records, publishing, merchandising and touring. Recently, she discovered the rock band Blowing Trees, from San Antonio, TX, whose debut album was released to rave reviews and strong sales. She has several other groups under development, including Canadian rock band, Everlea, whose album will be released digitally in August.

And there's more—Diane is currently involved in the development of several film projects with Bregman Productions. Earlier this year, she co-produced an off-Broadway play at the Daryl Roth 2 Theatre, which starred Will Janowitz of The Sopranos. Her passion for theater certainly keeps her on her toes and her long-time love of movies brought her to The Diane Passage Jury Award, presented at the annual Savannah Film Festival. And, for added scope, this young philanthropist is a Benefac­tor of the New York Metropolitan Opera. Additionally, a savvy investor, Diane has made rewarding investments in the music arena, the healthcare sector and in high-tech cutting edge companies, both locally and globally.

In the midst of it all, though, is a beautiful young woman with a heart of gold who graciously shares her blessings. Diane Passage has a charmed life to be sure, but she also knows how to charm, and most importantly, help others. The best is yet to come.