At the 21st annual Power Lunch for Women at the Rainbow Room, Y-chromosome carriers had to plunk down $10,000 for the privilege of mingling with hundreds of female business magnates, political insiders, media power brokers, and celebrities.

Showcasing female preeminence, however, took a backseat to the event's main purpose: to raise funds for Citymeals-on-Wheels, a nonprofit organization that hand-delivers hundreds of thousands of meals each year to homebound elderly. Citymeals was founded by "insatiable" food critic Gael Green ("I don't worry about not finishing the food on my plate anymore, because I know people are getting their meal") and James Beard. Since 1981 it has fed 18,000 hungry and lonely New Yorkers three million meals. Its co-founder, the late Robert "Bob" Tisch, Loews chairman and Giants owner on his days off, served as president of the board of directors for many years, and was graciously acknowledged at the event.

"If you've ever had a chance to deliver meals to Citymeals seniors, you have observed something beautiful," said Donna Hanover. Kathleen Turner introduced Muriel Fleit, a senior whom the actress had befriended through the Citymeals-on-Wheels Friendly Visiting Program.

Among the powerful ladies who lunched: Edie Falco, Geraldine Ferraro, Linda Fiorentino, Mary Higgins Clark, Polly Bergen, Liz Smith, Diane von Fürstenberg, Elaine Stritch, Adrienne Landau, Rikki Klieman, Margo MacNabb, Dr. Cheryl Karcher, Candida Royalle, and Catherine Saxton. Michael Lynne, Jimmy Nicholas, Joseph M. Cohen, John Shapiro, and Shelly Fireman were some of the gentlemen who had happily forked over the ten grand to attend.

Deborah Roberts (20/20) emceed, and three individuals were honored for their commitment to Citymeals: Western Union CEO Christina Gold; Morgan Stanley's Mary Meeker; and Citymeal board member Lillian Vernon, founder of the Lillian Vernon Corporation.

"The Citymeals-on-Wheels Power Lunch for Women reminds us, once again, that power and compassion go hand in hand," proclaimed Marcia Stein, executive director of Citymeals. They do indeed, for upon learning that this year's total had registered a tad short of last year's record-setting $1.1 million, Anna Cohen, Lillian Vernon, and chef and philanthropist Andrew Borrok took immediate corrective action and eagerly ponied up the difference necessary to make this one the queen of power lunches.
| | |
| --- | --- |
| | |
| Rikki Klieman, Donna Hanover | Shari Scharfer-Rollins, Dr. Cheryl Karcher |
| | |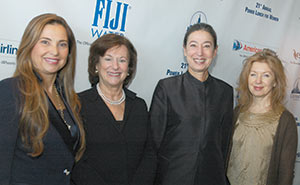 Judith Regan, Marcia Stein,
Michele Oka Doner, April Gornick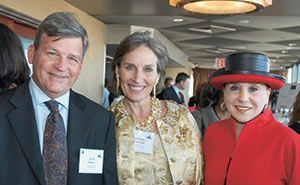 John Shapiro, Andrea Marcovicci, Cindy Adams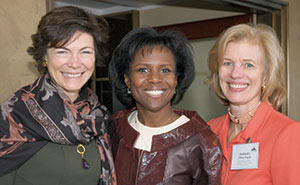 Diana Taylor, Deborah Roberts, Barbara Alden Taylor
| | |
| --- | --- |
| | |
| Silda Wall Spitzer | Stephanie March |
| | |
| | |
| Lillian Vernon, Carmen Dell'Orefice | Michael Lynne, Betsy Bernardaud |
| | |
| | |
| Adrienne Landau, Andrew Borrok | Elaine Stritch |
| | |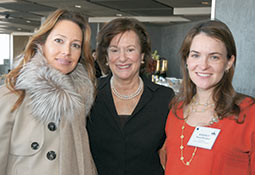 Samantha Boardman, Marcia Stein, Kimberly Kravis Schulhof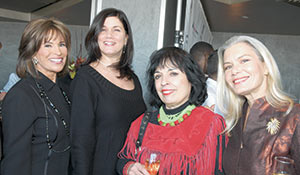 Rikki Klieman, Linda Fiorentino, Zarela Martinez, Candida Royalle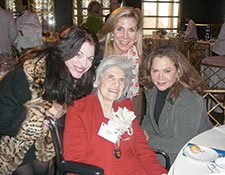 Adrienne Landau, Margo MacNabb, and Kathleen Turner with Muriel Fleit