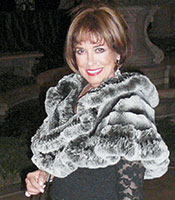 Joan Jedell
"Get ready to start groveling," is the word from a recent New York Post article on Manhattan get-real-estate. And that includes A-listers! So, if you thought snatching up a condo was a breeze compared to a co-op, you're in for a coronary. Now, trying to pass the condo board (the Trendy Taliban) is as humbling as the strip search (plus colonoscopy) to get past the Co-op Palace Guard!
The shocker, says The Post, is that condo boards have started to ape their co-op cousins, who "are notorious for making buyers beg and plead for a spot in the building…." Take one unsuspecting condo hopeful----—he was handed a 24-page command list: the board demanded two years of tax returns, reams of bank account numbers, notarizations and signatures from just about everybody (including the U.S. Congress, no doubt), all stocks, bonds, trusts, assets, and liabilities. And that's just foreplay!
Well … get ready for the New (York) Condo/Co-op Constitution:
• The "scratch and sniff" clause: The board gets to scratch and sniff everything you've got-—from armchairs to armpits--—before you apply —to make sure you're odor- and mothball-free. And when face-to-face with the board, you'd better be spritzed with A-list-approved fragrances—or you'll be hosed down.
• The "no talk" gag: If you want the luxury pad badly enough, you have to abide by Not-in-My-House Rules. First, no talking in halls or elevators. Not a sound-—don't even contemplate a neighborly hello or switching on your cell phone. If you pass gas in a hallway, you're evicted (in an elevator, you're sued). A-list residents do expect round-the-clock quiet and tranquility. They like to think of their digs as a private and remote Celebrity Island—and they like to imagine all their neighbors have floated out to sea: in other words, drowned!
• The "canine" catch: Many A-listers love cuddly pups, but they do not appreciate nonstop barking, especially at 4 a.m. So, at night barking-pet owners must either muzzle their beloved Chihuahua (the Paris Hilton Loophole encourages boards to give special consideration to the breed), or else purchase a cease-and-desist shock collar, or bark-and-growl depressants for "Pepe." And buyer beware: Any Pepe poop discovered within two blocks of the residence will be returned to the ignorant owner—by hand.
• The "nickel and dime" law: Residents are required to have the Big Bucks—and nickels and dimes are beneath them. Today small change is worthless anyway—most people use it as pigeon feed. No resident is permitted to carry a single coin in or out of the building, or attempt to conceal loose change even in a safe inside their digs. If by some architectural screw-up there happens to be a "communal" laundry room, washers and dryers accept only fifties anyway. If any spare change is palmed to a doorman for the tiniest favor, the doorman is instructed to spit. Hundreds only!
• The "G-spot" statute—Garbage: Owners must make sure their trash bags make it all the way down the G-chute to the building's G-spot. If any rubbish does clog the chute, the offender is expected to squeeze himself inside and clear the passage (think of it as bungee-jumping, dah-lings—but make sure you don't lose your Van Cleef necklace or Cartier watch, or your Harry Winston trinket on the ride down!).
• The "guest check" codicil: Every A-lister knows that who walks into a place is as important as who lives there—the paps could be swarming outside at any moment to snap a Celeb Guest! Those who aren't in Who's Who may not enter the premises. Guests who do make it to the front desk must go through a background check to confirm their social/celebrity status.
• The "criminal past" check: All hopefuls will be thoroughly investigated. Ever stolen a lollypop or gotten a speeding ticket? Don't bother to apply. However, paroled serial murderers and sexual predators may be considered by the board if they've appeared on Dateline and/or had a best seller written about them, or a script in the works (after all, they are famous … hmmm, infamous?). As The Post's Cindy Adams puts it, "If you're indicted, you're invited."
• The "family screen" test: Since dwellers can still lawfully transfer ownership of a condo/co-op to offspring (The Curse to all boards), the imme-diate relatives of applicants will undergo the same personal/finance checks, plus a special psy-chiatric screening—to make sure they've never "flown over the cuckoo's nest" or escaped from a prison ward. (Rehab, of course, is a different story, and a bonus point … à la Britney.)
• The "look good" amendment: Boards crave beautiful tenants—they make the building look even better. So owners must look good at all times. If you want in, be prepared to have regular injections of Radiesse, Sculptra, Restylane, Juvéderm and/or Botox. And if that doesn't work, it's plastic surgery time!
• The "no smoke" kicker: The board is entitled to shoot any applicant who smokes on sight. And all smoking is banned inside the apartment, because smoke travels through vents and the slightest whiff is grounds for eviction. Want to light up? Think outdoors and 60 feet from your luxury pad …
Sound tough? Well, hey, if you're game enough for the Bigtime Apple, you can take the heat, and firing-squad boards are just a day in the park—and there is only one Central Park!

Enjoy The Sheet!
---
Joan Jedell appears on national and local TV and radio including guest segments on the CBS Morning Show and on 77 WABC radio every Saturday morning at 9:10.
Her photographs are syndicated worldwide.