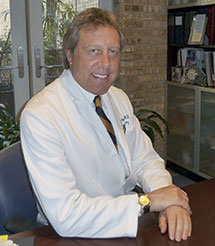 Barry M. Weintraub M.D., F.A.C.S., is in his surgical prime. Pos­ses­sing the quiet calm of assured success, the Cornell Medical School alumnus is mature in his aesthetic judgment and technically seasoned, with more than two decades of experience performing cosmetic surgery. His discussion on ethics and patient candidacy in cosmetic surgery has earned respect from the public, the American Society of Aesthetic Plastic Surgery, and the almighty Oprah, who's had him on her show as an expert guest. Dr. Weintraub is known for detail-oriented cosmetic surgery of the face and body. "Results should be conservative and understated," he offers, "with a keen eye towards natural beauty." We sat down with him and tapped into his brain:

Hampton Sheet: Amid the magnificent surroundings of his East Hampton office, we asked Dr. Weintraub to tell us how he divides his time between his practices in Manhattan and the East End.
Dr. Weintraub: My main office is on Park Avenue where I see surgery patients and perform the non-invasive injectible procedures Monday through Thursday. On Fridays, I enjoy the serenity of my East Hampton office away from the city where I limit appointments to consultations, Botox and dermafillers. All cosmetic plastic surgery is performed in Manhattan at Lenox Hill, Manhattan Eye and Ear, or Center for Specialty Care.

HS: What results can people expect from the non-invasive procedures?
DR.W: In the emerging field of aesthetic medicine, the non-invasive procedures—Botox, dermafillers, skin lasers, peels, and laser liposuction—are very popular. These procedures will help minimize the signs of aging with their individual and combined effects. Cosmetic plastic surgery still provides the best long-term solution to the complex effects of aging, especially when a wrinkle or fold cannot be adequately treated by less invasive modalities. Further, no non-invasive procedures for breast augmentation reduction or tummy tuck exist; the time-honored surgical approach is still the best choice.

HS: How do Botox and dermafillers differ in minimizing the effects of aging?
DR.W: Botox and dermafillers do entirely different things. Botox is a temporary and selective muscle relaxer that softens the dynamic wrinkles caused by repeated facial expressions. Botox is commonly used for the removal of angry frown lines between the eyes or the dreaded "11," pensive horizontal forehead furrows, and squinting crows feet. Dermafillers—Restylane®, Juvéderm™, Radiesse®, and Sculptra®—fill the bottom of a wrinkle or fold, thereby turning a valley into a smooth plane. Autologous fat transfer, however, remains the best and longest filler since approximately 70 percent remains permanent.

HS: Are patients becoming less fearful about these new injectible procedures?
DR.W: Botox is practically a routine beauty treatment for many. It has one of the strongest safety profiles of any pharmaceutical and a long history as an effective outpatient procedure. There is more resistance to dermafillers due to the overdone, unnatural full lips that are seen far too often. No one ever notices the patients with conservative, great results. They simply just look fabulous. It's not the procedure that creates unnatural results, but the skill of the practitioner. The precision placement and the right type of filler as micro droplets make the difference. I use light filler to conservatively augment the beautiful anatomy of the lips to produce a gentle, understated, sexy pout.

HS: How do you guard against unnatural results from cosmetic plastic surgery?
DR.W: My philosophy has always been less is more, and it has served me well for the past two decades in producing natural results. I employ cutting-edge procedures in treatments and use the latest minimally invasive, non-surgical and short-incision techniques to provide the maximum benefit to my patients.

HS: Do you specialize in a particular type of cosmetic surgery?
DR.W: I enjoy the detailed cosmetic surgeries of both the face and body, and my favorite procedures are nasal sculpting (rhinoplasty) and eyelid rejuvenation surgery (blephoplasty). Noses are in the center of the face and when seen through the discerning lens of a camera a 1 mm difference in any direction matters and can truly transform a face. A rhinoplasty will balance the face structurally and can erase years especially when done in conjunction with facial rejuvenation surgery. Nasal sculpting and eyelid recontouring should be understated and draw your eye to the natural beauty of the whole face.

HS: What information can you offer about the newest procedures and technologies to tighten skin and remove fat?
DR.W: Ultrasonic and laser technologies have been applied to traditional liposuction. Laser liposuction has become quite popular for smaller stubborn areas that are diet and exercise resistant, especially the jaw line, neck, upper arms, tummy, and thighs. The laser melts unwanted fat that is easily removed with a super-fine liposuction canula. The procedures are short and can often be done under regional anesthetic block with very little downtime.

HS: At what age should someone consider cosmetic plastic surgery or any of the non-invasive aesthetic procedures, and how do I know when I am ready?
DR.W: There are no age restrictions to see a plastic surgeon; however, there may be developmental issues that need to be considered. The day you look in the mirror and see something you don't like is the day to pick up the phone and make an appointment to examine your options. Positive changes should not be motivated by a boyfriend, husband, or parent, but by you and you alone. A plastic surgeon has the deepest education about the skin and its underlying structures and is therefore in the unique position to evaluate the merits of all possible rejuvenating choices.

HS: What words of advice can you offer someone who is thinking about plastic surgery?
DR.W: Slowly, but surely. Research the procedure(s) you are contemplating. Make sure you consult with a board certified plastic surgeon. Check doctor and patient referrals. Be sure that he or she has an appointment at a proper community hospital and is in good standing. Ask to speak to other patients who have already had the procedure(s) you are considering. Take as much time as needed to make sure the doctor is patient, is listening to your concerns, and understands your wishes.

Dr. Barry Weintraub can be reached at 629 Park Avenue, NY, Telephone 212-737-7500, in East Hampton near the Ross School, Telephone 631-324-4800. Visit his Web site at www.drbarryweintraub.com.