As summer shifts from subtle heat to sultry humidity, leave some room in your beach tote—between the Patrón and the MacBook Air, beside the Havaianas thongs—for a few select hardcovers that deliver dish, foster fright, and go down sweetly. As John Cheever would attest, every beach party needs its token literati. Herewith, some titles to pair with your cocktails and conversation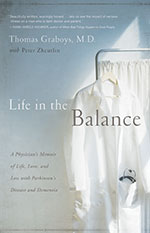 FEATURED REVIEW:
Life in the Balance: A Physician's Memoir of Life, Love, and Loss by Thomas Graboys and Peter Zheutlin(Union Square). Their white coats are iconic, and those who wear them hold mythic positions in American culture: the doctor owns healing hands, a com-
posed countenance, and a soft voice to bear hard news and deliver hope. In this painfully personal telling of a physician's experience with Dementia and Parkinson's Disease, Graboys reminds us that the superheroes of our modern age are human after all. A well-known and
well-respected cardiologist, Graboys had, before the age of 50, reached the apex of his career, treating dozens of patients daily, and helping families walk that thin gray line between life and death. Over the next decade, the roles would reverse. Stricken with a particularly aggressive form of Parkinson's, his once steady hands now tremble, and his once-sharp mind now slips over simple procedures. Stooped and shuffling, he now seeks a new way to use his gifts of compassion to enact a kind of healing: in the act of storytelling, he provides a narrative for all those who suffer from such illnesses, and for the families who accompany them. Bracingly honest, with a flair for
the imaginative that only affirms his authenticity, Graboys is a brave soul, and a brave writer. For those spending summer weekends frolicking on the sand, Graboys' story affirms such celebration of life, by one who has seen it distilled to its essence.
QUICK PICKS:
Thanks for Nothing, Nick Maxwell by Debbie Carbin (Griffin).Our guarantee: Carbin's debut novel—with its delightfully Anglophonic idiom, breezy pace, and shamelessly gimmicky narrative style—will be the quickest 476 pages you've ever read. Carbin treads dangerous ground by giving us a flawlessly beautiful but entirely self-indulgent narrator, with even less likeability than body fat. Somehow, however, she pulls it off, and we're won over by her unflinching honesty and search for something better in herself than brazen sexuality, when that most persuasive of gifts is taken away. Carbin's a visual storyteller (the prose seems only a step and a half removed from screenplay) and her voice will please the ears of those who have endured too long a silence from the diary of Bridget Jones.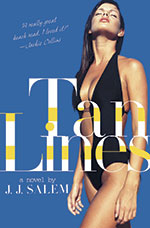 Tan Lines by J.J. Salem (St. Martin's). If Jackie Collins likes it, who are we to disagree? The Queen of the Sexy Sizzler stamps her approval on a book whose author surely learned from her the delicate, delicious amalgamation of sex, murder and summer sand. Buy it for the cover, then keep it for the story, which boasts a ribald opening sequence that would make Henry Miller blush with pride.
Water's edge by Daniel Judson (Minotaur). Set in a noir Hamptons where rain and darkness have chased away the sun and smiles, Judson's story is a surprisingly smart tale of salutary psychological depth. In the space of 24 hours, ex-boxer Jake Bechet witnesses a murder, is unwillingly recruited to find the killer, confronts the crime lord who once was his boss, and uncovers secrets one never suspected lay buried along the surface-placid isle. Previously a long-time resident of Southampton, Judson knows the style and geography of the Hamptons, and by book's end, you're convinced he may know far more.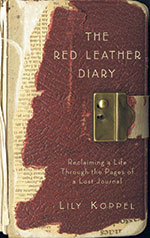 The Red Leather Diary by Lily Koppel (Harper Collins). Dumpster-diving never looked so intellectual. When New York Times writer Koppel found the seventy-year-old diary of a young woman named Florence Wolfson in the garbage, she had little clue that the woman speaking from its pages was still living, or that the romantic fates from which Manhattan has made its myth would eventually bring the writers together. Koppel weaves the tale with captivating ease, as her own search for self in the city parallels the faceless, ageless woman whose words became a comfort and guide. Koppel's writing, and Wolfson journals, describe a New York magical and glorious enough to make even the lounging Islander consider cutting the weekend short.
COFFEE TABLE COLLECTABLES:
Three decades since the summer night that ended a historic campaign and claimed the life of the one who led it, publishers offer a variety of tributes to the person and politician Robert Francis "Bobby" Kennedy. Our favorites: R.F.K.: A Photographer's Journal by Harry Benson (powerHouse) and A Time It Was: Bobby Kennedy in the Sixties by Bill Eppridge (Abrams), two volumes whose legendary proprietors capture the man whose authenticity, humility and vision continue to inspire. (We await the forthcoming collection from Kate and Elizabeth Kuhner, Palm Beach lenswomen whose archive of family photos and domestic scenes introduce us once again to the Kennedys of old.)