Starfish are radially symmetrical marine invertebrates of the class Asteroidea, of which there exist roughly 1,800 known types. Although the majority of them wile away their earthly existence combing for mollusks on the ocean floor, a few synthetic varieties make for nifty awards. Golden Starfish Awards, for instance, are regularly given out by the Golden Retriever Club of America for outstanding contributions to the salvaging of canines, as well as by the annual Hamptons International Film Festival for masterstrokes on the silver screen.

Upon learning that a project featuring PETA helmswoman Ingrid Newkirk captured a Golden Starfish, who would have guessed it had issued from the Film Festival and not the Retriever Club? Indeed, I Am an Animal, an unvarnished examination of Ms. Newkirk and her controversial organization, nailed the 2007 Golden Star­fish Docu­mentary Feature Film Award, while the jackpot for Best Narrative Feature, prized at over $185,000, went to a German production titled Valeria.

The Hamptons International Film Festival drew luninaries galore, including Lisa Kudrow, Keri Russell, Amanda Peet, the timeless Lauren Bacall, Gretchen Mol, Blake Lively (The Sisterhood of the Travel­ing Pants), Alison Eastwood, John Cusack, Alec Baldwin, Jeff Nichols, Harvey Keitel, Sidney Lumet, director-producer Alex Gibney, and Phil Donahue­­.

Vanessa Redgrave scored this year's Golden Starfish Career Achievement in Acting Award, yet in the spirit of her arresting portrayal of dubious British arms dealer Max in Mission Impossible, she may well have fashioned her Starfish into a ninja star and dumped it on the black market by now.

An exclusive A-list invite-only dinner was hosted by New Line Cinema co-charioteers Michael Lynne and Bob Shaye at Nick & Toni's. Animal flesh was served. PETA has a long way to go.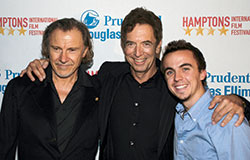 Harvey Keitel, Howard Himelstein, Frankie Muniz
| | |
| --- | --- |
| | |
| John Cusack, Amanda Peet | Keri Russell, Anastasia Brown |
| | |
Scott Prendergast,
Lisa Kudrow
Amanda Peet, Lisa Kudrow
Karolina Kurkova, Howard Himelstein, Daphna Kastner