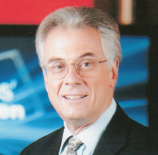 I'm happy with all the Oscars, though I rooted for Gabourey Sidibe to win. But please, no more inane dance numbers padding an already-long evening. And only one host was needed. The horror movie tribute was irrelevant, and Lauren Bacall, the biggest star in the house, should've gotten her honorary Oscar live. As for Monique, who won for Supporting Actress, she wore a blue dress and the same type of flower that Hattie McDaniel, the first African-American to win an Oscar, wore the night she won for Best Supporting Actress in Gone With the Wind. Good choice.
As for new movies, The Eclipse is an absorbing rainy afternoon film starring veteran Irish actor Ciaran Hinds. You know him from Mrs. Pettigrew Lives For a Day, or Veronica Guerin. Here, in a small seaside Irish village, he portrays Michael Farr, a widower father coping with his loss.
A school woodworking teacher and poet, he volunteers at a local book fair and meets Lena Morelle, a popular author of supernatural books. She's portrayed with skill by Danish actress Iben Hjejle, best known for Defiance as a resistance fighter and the cult favorite High Fidelity. Aidan Quinn, often drawn to stories with an Irish backdrop, co-stars as the author's jealous sometime lover.
This is an intriguing movie about adjusting and coping and the possibility of the existence of spirits, since the widower thinks his late wife appears at night. Writer-director Conor McPherson used a heavy-handed score in transition shots conveying the passage of time and reinforcing emotions, but then wisely eliminates music when his characters interact. This permits the reality to speak for itself. Eclipse is stark but oddly plausible. Alas, it has an unsatisfying ending which doesn't fully resolve the situation.
In Greenberg, Ben Stiller assumes his most obnoxious character, Roger Greenberg, a New York-based carpenter who'd had a brief fling as a musician in LA without much success. But it's also one of his most challenging roles. This is an offbeat indie in which Stiller portrays a NY slacker who, when asked, frankly proclaims that he's "doing nothing for a while." He's flown in from New York to house sit for his brother and sister-in-law who are on vacation in Viet Nam. The job also entails his caring for their German Shepherd named Mahler. This is complicated by the fact that his character is such a New Yorker, he refuses to drive. Groceries can get mighty heavy when they have to be lugged for half a mile or so! Up a hill.
Stiller is very good at portraying edgy. His loser character Roger, single and in his mid-forties, moves around a set with a lift in his step which evokes unpredictability and gives his slacker character life. Greta Gerwig costars as the nanny and dog caregiver for the house where Stiller is crashing. She's dysfunctional too, and for a time, it seems she and Stiller could be on the same wavelength. Ms. Gerwig, who comes out of indie films and who has been called "the First Lady of 'Mumbelecore' because of her laid-back style, is a free spirit who probably doesn't like being so free. She comes off one relationship and reluctantly goes into another and she and Stiller's character, though separated by several decades, click. For a while.
Also in the cast is Rhys Ifans, the quirky English actor who'd been in a band with Stiller's character. His own slacker qualities notwithstanding, he longs to reunite with his estranged wife and family. He is a foil to Roger's laconic outlook on life, for he's actually grown up.
Greenberg is quirky, laid back and won't satisfy a mass audience. But it's a study in vulnerability I suspect you'll find intriguing.
And then there's Our Family Wedding, a pedestrian movie which isn't funny enough to be a comedy, nor dramatic enough to amount to very much. Oscar winner Forest Whitaker, no doubt taking a quick paycheck to appear in this drivel, plays a Los Angeles radio personality, making it known he's single. His son, portrayed by Lance Gross, is a doctor headed to Laos with Doctors Without Borders. But not before he ties the knot with a law school dropout, portrayed by Ugly Betty star America Ferrara. She hasn't bothered to tell her Mexican-American parents about her forthcoming nuptials nor the fact that she's dropped out of law school.
Along the way, we see stereotypical portrayals of Latinos, a goat running amok at the setup for the wedding, the inevitable breakup, and then the makeup of the altar-bound couple. A lot of secondary characters stand around trying to look involved. How this script got approved is one of the many enduring real-life Hollywood mysteries.
The sleeper of the month is City Island, that idyllic island which is New York's best-kept secret. Andy Garcia, one of the most under-appreciated actors of his generation, is a corrections officer who's found an astonishing connection to a young inmate. Steven Straight portrays him with appropriate abandon. Garcia's wife is played superbly by Julianna Margulies, suspicious of her husband's frequent "poker nights," suspecting he's having an affair.
This is a movie about family secrets and truth telling. The father's secretly been taking acting lessons, hoping to land a role in a movie shooting in New York. His daughter is a student but secretly moonlights as a stripper and the deep dark secret in the family may emerge at any minute. It's a compelling family drama with wonderful performances, including English actress Emily Mortimer as a fellow acting student and Alan Arkin at Garcia's teacher. When you think of "hidden gem," this movie will come to mind.