Take one world-renowned cancer hospital, one New York Times food and wine scribe, a hundred zesty recipes, mix well, add about 70 mouthwatering photographs, sprinkle generously with witty anecdotes and clever party pointers, edit, print, and release.
What do you get? The Park Avenue Potluck, declared by the Times as one of the 25 Most Notable Cookbooks of 2007. The book has been giving the likes of Martha Stewart and Rachel Ray a solid run for their money. Potluck mania is sweeping the country.

Potluck, now in its umpteenth printing, is the brainchild of former Sloan-Kettering president Coco Kopelman, and was produced in conjunction with the New York Times' Florence Fabricant and the Society of Memorial
Sloan-Kettering Cancer Center. The glossy tome features a delightful array of tasty–and reasonably failsafe–recipes supplied by Muffie Potter Aston, Jamee Gregory, Daisy Soros, Katie Colgate, and many other Society board members and associates. A portion of the proceeds goes to cancer research and patient care.

A Park Avenue Potluck dinner was served at Doubles, hosted by Doubles chairwoman Wendy Carduner. Executive chef Steven Mellina whipped up a piñata of dishes from the book, enticing a crowd that included: Leslie
Jones, Leslie Perkin, Kelly Forsberg, Barbara Tollis, and Catherine Carey.
Said Coco Kopelman: "I believe food is love." There's your perfect recipe for the average American waistline.
George Rudenauer,
Kathy Springhorn
Leslie Jones, Kelly Forsberg
Valerie Urry, John Manice
Catherine Carey,
George Rudenauer
Jack Gage, Karen Gage,
Lars Forsberg
Susan Friedman,
Susan Yamuna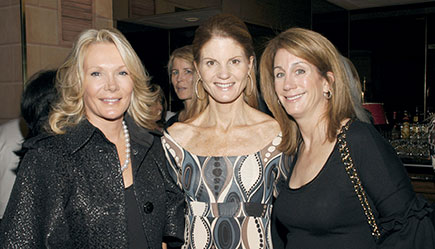 Caroline Toms, Mary Darling, Tara Liddle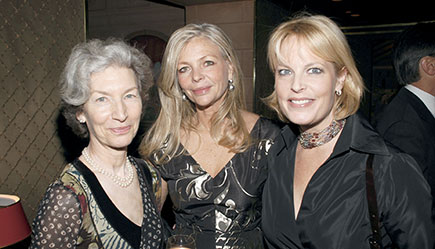 Felicitas Thorne, Ingrid Edelman, Carol McCarthy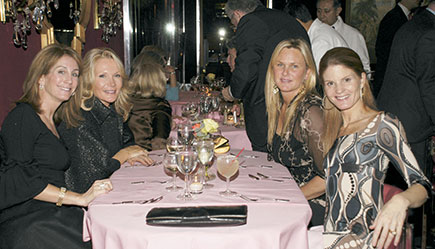 Tara Liddle, Caroline Toms, Alex Waller, Mary Darling