Lev Leviev, has just launched his first U.S. retail outlet at 700 Madison Avenue. The luxurious boutique features more than 5,000 carats of merchandise alluringly displayed among a sumptuous silk, leather, and crystal décor. At the sparkly store opening, Heather Mnuchin, Gillian Hearst Simonds, and Denise Rich modeled 8.44, 25.13, and 29.6 carats of
diamond jewelry respectively. Susan Sarandon arrived all spangled up with 50.6 carats, Nina Griscom wore 87.41 carats, and Isabella Rossellini
donned a hefty 149.57 carats of the good stuff. Also among the glittering crowd: Eva Jeanbart-Lorenzotti, Cynthia Lufkin, and Dr. Ruth Westheimer.
Leviev, the largest privately held cutter and polisher of diamonds, controls some of the most profitable private diamond mines in the world and also supports numerous charities. Diamonds are forever, although they
will melt, apparently, at 6,420 degrees Fahrenheit.
Celine Assimon, Julia Croddick,
Betsy Kroll
Joan Jedell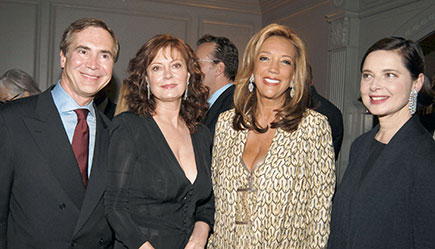 Thierry Chaunu, Susan Sarandon,
Denise Rich, Isabella Rossellini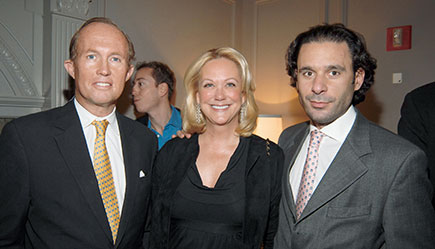 Mark Gilbertson, Nina Griscom and Leonel Piraino